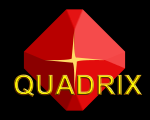 New puzzle challenge. Match-3 game with unique gameplay.
Select bricks of the shown figure shape on field. Make 3 or more bricks of the same color in a row or column to destroy them. Use multicolor brick to build longer chain of bricks.
Beat highscores, challenge other players in World Ranking.
Quadrix is available at Android Market for free.
See Android Market : Quadrix
See other markets at: kidga.com free games
"Quadrix" gameplay video:


Game features:
– local and global highscores (tracking with points gain),
– one-touch selection,
– bonus brick,
– advanced gameplay and balance
and much more.