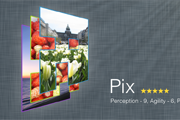 Pix for Android is a new picture puzzle game with unique gameplay.
Game rules:
Move picture layer to complete puzzle. Solve puzzles by moving in the shortest path to get best score.
Slide stage selector to review all game stages.
More stages are coming soon.
It available at Android Market for free.
See Android Market : Pix
See other markets at: kidga.com free games

Game features:
– local and global highscores (tracking with points gain),
– stages with 16 levels each,
– unique gameplay
and much more.